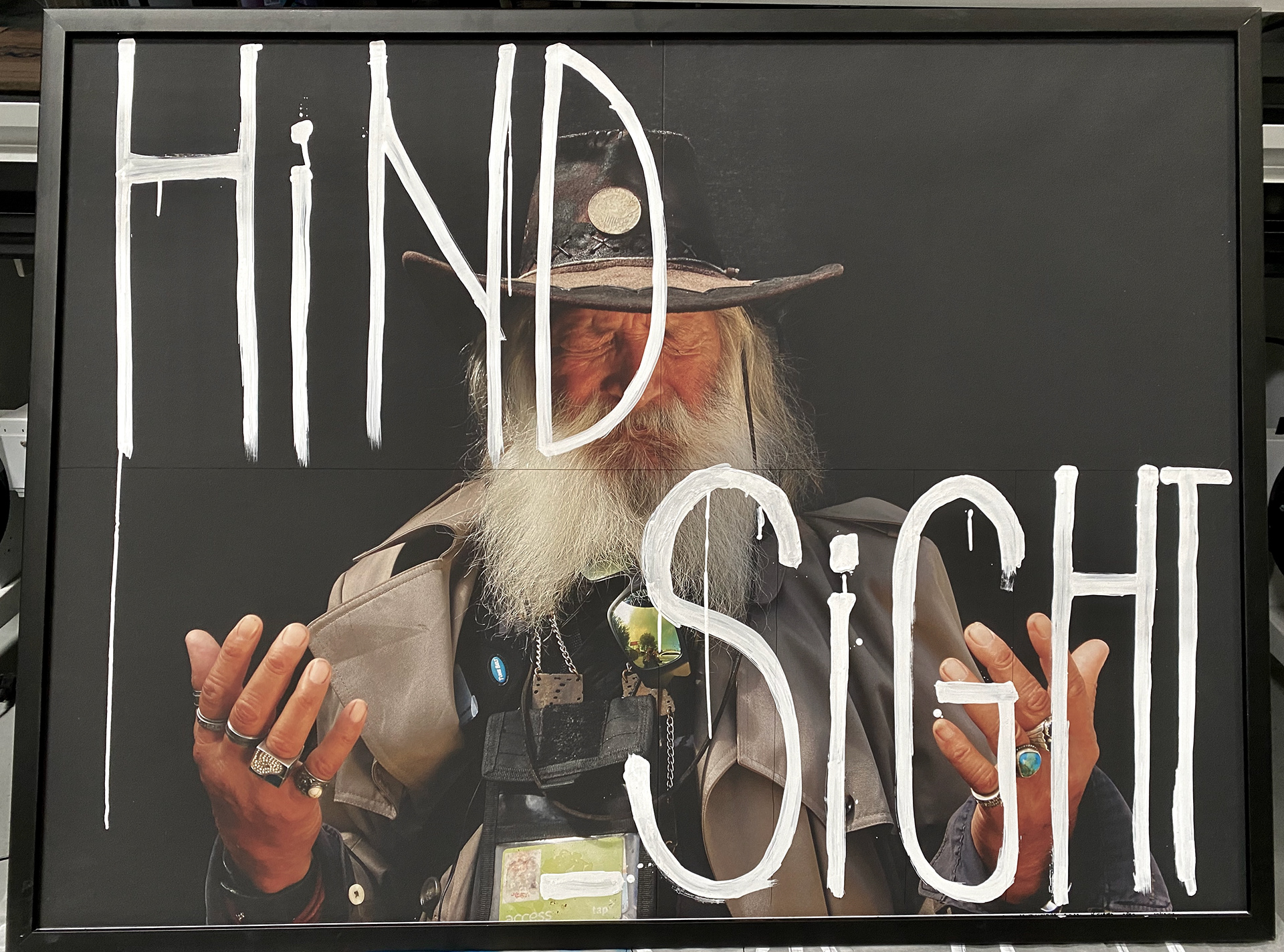 TITLE: HINDSIGHT IS 2020
MEDIA: DURATRANS PRINT, MULTIMEDIA, LED LIGHTBOX FINISHED SIZE: 37 5/8 x 49 5/8
EDITION SIZE: UNIQUE WORK
SIGNED: ON VERSO
RETAIL VALUE: $XXX,XXX,XXX,XXX
RESERVE:  (damn, you missed this one!)
DONATION: COURTESY OF THE ARTIST
Originally trained as a painter, artist Kathy Suder captures moments of intense human exchange. Suder first came onto the scene with her analog work, KNOCKOUT, documenting professional boxers, which categorically distinguished her from male counterparts of the time. These images embrace chiaroscuro compositional techniques that illustrate the fluidity of the medium rather than the stagnancy of a moment stopped in time. In the early 2000s, she studied with Ralph Gibson, transforming her photographic style. This was ultimately reflected in her first solo exhibition UNDERGROUND (2014) at the Amon Carter Museum, featuring large format portraits of subway riders in London, Tokyo, and New York. Subsequently, Suder has continued to challenge traditional notions of documentary photography with her series Everybody Is Somebody capturing the homelessness crisis in Los Angeles, CA. The work was showcased at Bombay Beach Biennale and featured in The New York Times, Playboy Magazine, Los Angeles Times and KCRW. Her work has been acquired by a number of major private collectors and her photographs are in the permanent collections of the Los Angeles County Museum of Art (LACMA), the Amon Carter Museum of American Art and the Pérez Art Museum Miami.  Her most recent exhibition and installation, EVERYBODY IS SOMEBODY, a humanizing look at the homeless of Los Angeles that showcased at Bombay Beach Biennale, was featured in The New York Times, Playboy Magazine, Los Angeles Times and KCRW.
EXHIBITIONS
Solo
EVERYBODY IS SOMEBODY, Bombay Beach Biennale, Bombay Beach, CA March 2019
UNDERGROUND, Photographs by Kathy Sherman Suder, Amon Carter Museum of Art, Fort Worth Tx, March 15-September 15, 2014 with monograph, Underground: London•New York•Tokyo
KATHY SUDER: KNOCK OUT, Bruce Silverstein Gallery, New York, January 15-March 13, 2004
KNOCK OUT + PARIS SUITE, TWO BODIES OF WORK, William Campbell Gallery, Fort Worth, Texas, March 17-April 24, 2004
Group
FAME, El Segundo Museum of Art, El Segundo, CA, September 8-November 24, 2103
Big Pictures, Amon Carter Museum, Fort Worth, TX, February 28- April 21, 2013
A Focused Vision, William Campbell Gallery, Fort Worth Texas February 2013
A Focused Vision, William Campbell Gallery, Fort Worth, Texas March 2011
A Focused Vision, William Campbell Gallery, Fort Worth, Texas May 2009
Modern Photographs, The Machine, The Body & The City: Gifts From The Charles Cowles Collection, Miami Art Collection, March 16-April 15, 2007
Masterpieces of American Photography, Amon Carter Museum of Art, Fort Worth, Texas, 2006
Paris Photo, The Louvre Carousel, Paris, France, November 17-26, 2005
Show Offs 1, William Campbell Gallery, Fort Worth, Texas 2004