As part of the 2023
Bombay Beach Biennale
, Kathy Sherman Suder unveiled her latest permanent installation in the California desert, entitled "TOXIKON". A work of art dedicated to showcasing the looming environmental crisis, that is the chemical poisoning of the Salton Sea, which has ravaged the surrounding Bombay Beach community and surrounding Southern California cities over the last 50 years. Open 24/7 in Bombay Beach, California.
TOXIKON, is a poison apothecary - a piece of artistic activism that is infused by memento mori, an artistic or symbolic trope acting as a reminder of the inevitability of death. Suder produced over 100 glass bottled elixirs containing the toxic remnants of plant & wildlife she gathered from the shores of the Salton Sea. Much of the fish and birdlife that once populated the state's largest lake have decayed beyond all recognition since a sudden die off due to a climate disaster. Barnacles, fish bones, and the occasional salt encrusted bird feather have been preserved in glass and suspended in oil, followed by a dip & seal process in wax. These elixirs are shelved and on permanent display for viewing inside the steel walls of TOXIKON, which sits near the Salton Sea beach.
TOXIKON is timely – as the planet is likely to cross a critical threshold for global warming in the next decade.  We've seen unprecedented natural disasters in recent years that scream for attention and change.
The weathered structure for this installation piece is wrapped in rusted steel that once protected Suder's art studio in Venice Beach, California.  After a long recovery from a life-changing brain injury, she was unable to make work for an extended period of time and had to stop her creative practice for a number of years.  The reuse of the materials that once protected and beautified her creative space is an intentional nod to her appreciation for what continues to serve, the pain of letting go, the growth and connection she found in nature and the transcendence that comes with healing.
Open 24/7
9545 Avenue D, Niland, CA 92257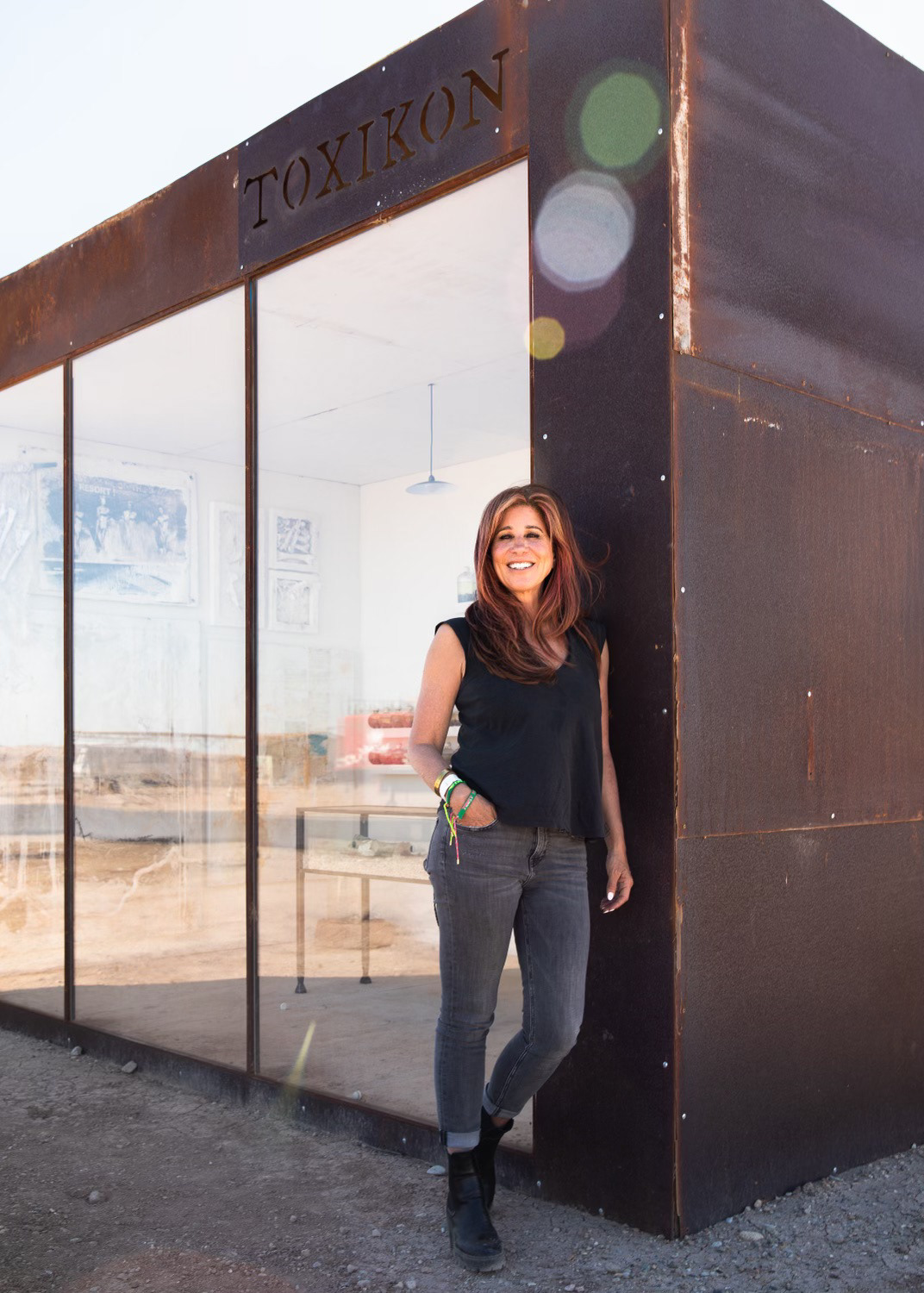 For ideas on how you can help, and find help, during this Global Pandemic, click on the button to the right....

ARTIST THROWS LIGHT ON GRIM HOLIDAY FOR HOMELESS
Los Angeles, CA, January 7, 2020
 Knockout Photography is pleased to announce artist Kathy Sherman Suder's latest photographic works, 
EVERYBODY IS SOMEBODY
, addressing the homelessness crisis in Los Angeles. 
Suder uses photography, text, and sculpture to humanize the tens of thousands living on the streets in Los Angeles, a network of abandoned, addicted, disabled, lost, forgotten, working poor, veterans, victims and victimizers. Through her lens and the stories 
share
d
 by the vulnerable community continuing to struggle in America, Suder displays with empathy and intimacy an epidemic within her community.
"Kathy Suder is not a mere observer of this show. She does not hide her camera behind a buttonhole of her coat as Walker Evans did in the 1930s. Nor does she shirk back into the shadows to safely record the scene from a distance... Suder relishes in their humanity. "
- John Rohrbach, Senior Curator of Photography, Amon Carter Museum
(from his introduction to her photographic book, UNDERGROUND)
The state of California is in the midst of a catastrophic housing shortage, fighting for solutions to assist their share of more than 500,000 Americans living in homesslessness today, a quarter of whom are children. The latest White House metric records the streets of Los Angeles holding more than 58,936 homeless residents, an astounding 16 percent growth over the previous year. Suder notes:"
 "It's not a time for pointing fingers; it's a time for coming together, for calling upon the brightest minds to find immediate and lasting solutions to this devastating housing and mental health crises that is unfathomable in the modern Western world."
 EVERYBODY IS SOMEBODY aims to bring recognition and dialogue around L.A.'s present day injustice. In the wake of the Dec. 17 New York Times' article, 
Among the World's Most Dire Places
, a feature on an Oakland homeless camp, this issue has never been more topical or urgent for this state or the nation as a whole. 
After spending the day with Daniel he wonders out loud as he offers to share an untouched pizza he finds in the trash can
 "I wonder why people throw everything away?  Maybe to help me." 
For our community members who are not offered a sense of security, Suder seeks to remind her viewers what the role of the home is when so many are not afforded this basic sense of security. New legislation is turning 15 percent of the country into outlaws for a life they cannot seem to pull themselves from.  While these people sleep on the streets of every city across the country, Suder's humanizing tour de force of the victims of this epidemic helps viewers see those affected not just as statistics but community members living in poverty and need.
 "Where a cacophony of words seem to fail us in portraying the desperate needs of our neighbors, all of us are living together on one planet, the beauty of truth is that we know it when we see it." 
"After looking into the eyes of the homelessness for the past six years, I am haunted by the recognition that these are the same vacant looks as those from the extraordinary images of the WPA photographers of the 1930s taken during the Great Depression by Dorothea Lange, Walker Evans and Robert Frank, who captured an America on the verge of collapse," says Suder.
Kathy Sherman Suder's first major series of work on boxers, KNOCKOUT, as described by The New Yorker, "owe more to Caravaggio than to Sports Illustrated" debuted in New York and marked Suder's arrival on the U.S. art scene as an image maker of unusual emotional and visual power. The artist's first U.S. solo museum exhibition, UNDERGROUND: Photographs by Kathy Sherman Suder was curated by John Rohrbach and opened at the Amon Carter Museum of American Art in 2014 with accompanying catalog, which won awards and accolades.  Her most recent installation of 100 illuminated tents and photographic works showing the face of homelessness at the Bombay Beach Biennale was reviewed in the New York Times and Los Angeles Times Magazine.  Photographs by Suder have been acquired for the permanent collections of the Los Angeles County Museum of Art (LACMA), Amon Carter Museum of American Art and the Pérez Art Museum Miami.
For additional images, publication rights, and story content please make inquires to the studio at 
suderstudio@gmail.com
.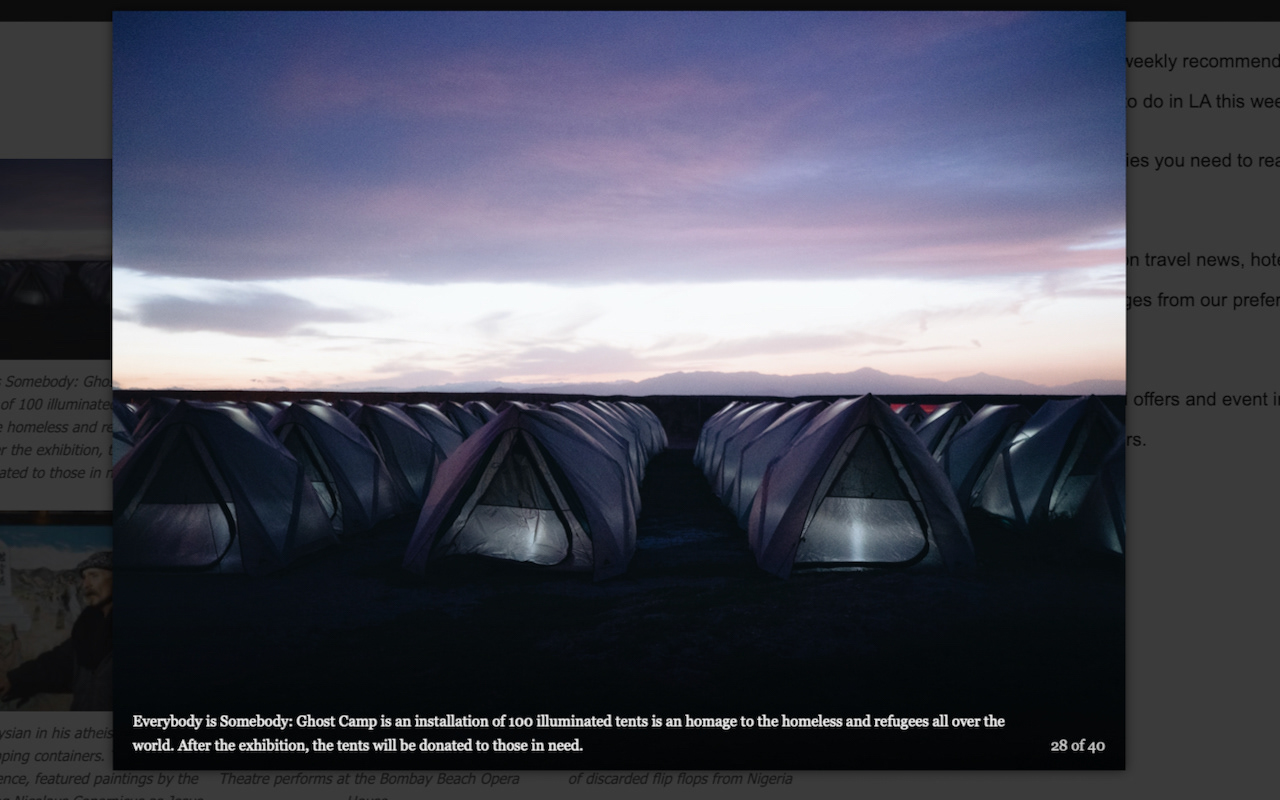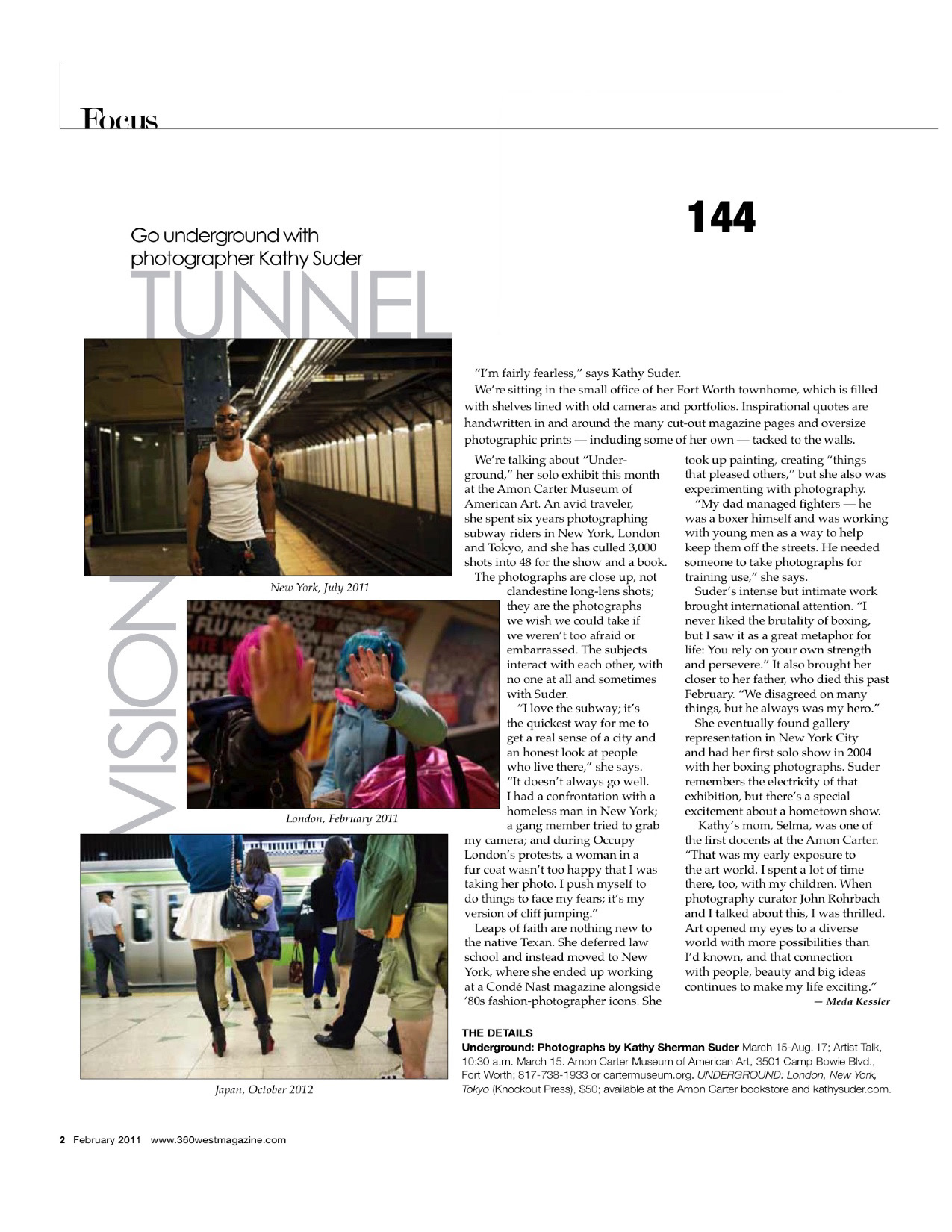 The Amon Carter Museum of American Art
Fort Worth Business Press
Fort Worth, Texas Magazine